Are you a visionary woman with a burning desire to make a difference in your community by aligning with your heart's core values?
Do you long to feel empowered, confident, and deeply connected to your authentic self and soul's purpose?
Are you ready to remember your passions, create stronger and healthier relationships, and experience more joy, love and success in your life?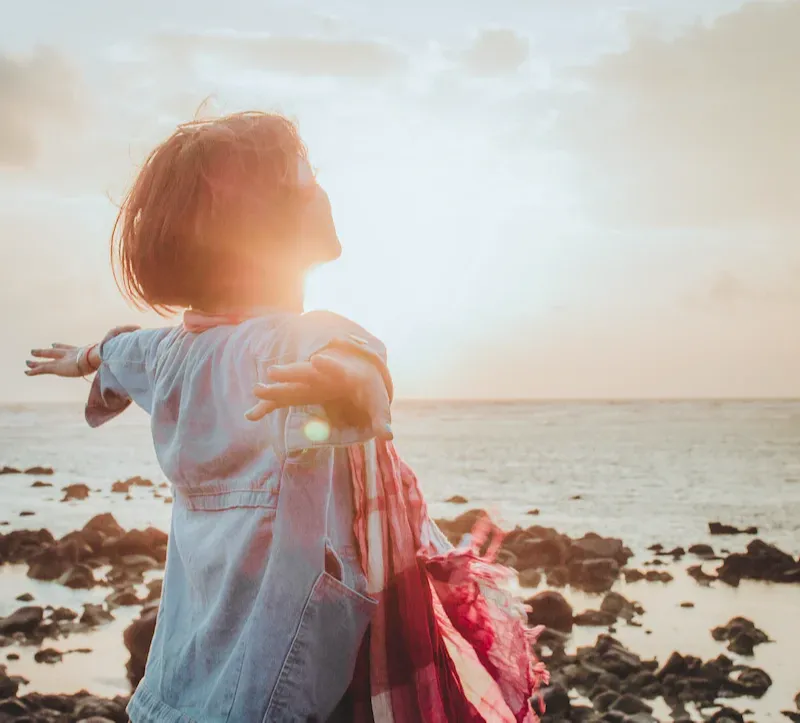 Then you've come to the right place.
Join us on this journey of healing, transformation, and personal development, and unleash the empowered woman inside of you to create a ripple effect of love in this world.

Through this course, you'll learn how to integrate the limiting beliefs, traumas and old behaviors that are holding you back from living in your highest potential. You'll discover your authentic self, and activate your potential to create a life that feels aligned with your deepest desires.

You'll gain the tools and confidence to embody your light, energy, and love and express them to the world confidently. You'll learn how to create and build healthy relationships and businesses that support your vision and your growth.
You'll uplevel your consciousness and your life.
Included with this program:
Self Love
Taking the time to reflect on past traumas, and actively working to heal and release any negative beliefs, emotions and behaviors that are holding you back from fully loving yourself. Creating a self-care ritual, becoming more self-resourced, setting boundaries with others, and changing the way you speak about and act toward yourself.
Authentic Self
Explore your true passions, interests, and values, and actively align your life choices with these. For example, if you discover that they have a passion for writing we will create action steps toward creating time and energy for this. You will learn to fully express yourself and your ideas, so you can build self-confidence and empowerment.
Confidence & Empowerment
Step outside of your comfort zone and take risks in your personal or professional life, despite feeling nervous or uncertain because you have a guide supporting your transitions. Clients start new businesses, speak up in a meeting, or set boundaries with a toxic relationship when they realize they have nothing to fear.
Improved Communication + Relationships
Actively work to improve your communication skills and build stronger, more loving relationships with the people in your life. This involves understanding masculine and feminine energy, practicing active listening, being honest in conversations, setting better boundaries, and expressing gratitude and appreciation for others.
Align With Your Purpose
+ Create Your New Life
Work towards your visions, goals and dreams, whether traveling more, magnetizing a new relationship, or changing careers. This might involve taking concrete steps, such as signing up for a class or workshop, work-life balance, creating a vision board, or time management.
Expand + Embody Your New Consciousness
Seek out new experiences, ideas, and perspectives to expand your worldview and your sense of self.  Receive meditations, journaling prompts, affirmations, embodiment activities, and mindset shifting tools that help you create sustainable change. 
"My biggest takeaway is that my life is my choice and I get to chose the attitude, the outcomes, when I say yes and when I say no."
After all of this... 
...imagine feeling free and liberated, stepping into leadership, and creating more joy, love, and light in your life and the lives of those around you.
Imagine experiencing passionate, loving, and intimate relationships with your friends, family, children, and partners.
Apply Now
The Empowered Woman is not just a coaching program.
It's a life-changing healing journey and experience that will transform you from the inside out.
You'll receive sacred ancient wisdom and divine feminine knowledge that will help you integrate spirituality into your life to access your true power.
Join us on this journey of healing, transformation, and personal development, and become the empowered woman you were meant to be.
Enroll now and take the first step towards creating a life of purpose, passion, and fulfillment.
This program is for you if you are:
Cultivating self-love, body positivity, and confidence in your appearance, aging process, and unique qualities.
Healing from past relationships, releasing resentment, codependency, and rediscovering your true desires and capacity for intimacy.
Overcoming self-sabotage and developing healthy relationship habits based on self-worth, and what you desire and deserve now.
Building a supportive community and learning to ask for help is valued, without sacrificing your independence and self-reliance.
Embracing imperfection, letting go of social expectations, and expressing your true self without fear of rejection or judgment.
Finding balance in giving and receiving to end rescuing and people pleasing tendencies, learning how to set healthy boundaries, and prioritize self-care and personal fulfillment.
Developing trust in your intuition, letting go of perfectionism, and taking bold steps towards personal growth and success.
"My perspective changed and suddenly it's quiet, peaceful- I have time to focus on creating and have a newfound realization that anything & everything is possible. If you can dream it, you can make it a reality."
This program is not for you if you are:
➤ Not willing to invest time, energy, and resources into their personal growth journey
➤ Unwilling to explore and challenge your trauma, limiting beliefs and patterns
➤ Wanting someone else to solve their problems for you instead of taking ownership of your life Looking for a quick fix or magic pill instead of putting in the work for sustainable transformation
➤ Not open to new ideas or different perspectives or ready to make changes
➤ Resistant to feedback or constructive criticism
➤ Seeking external validation or approval instead of inner validation and confidence
➤ Closed off to spiritual or holistic energetic practices
➤ Not willing to show up fully and authentically in the coaching program
What's included: 
➢ Live Group Coaching Sessions - 1 x Per Week
➢ Group Coaching 12 Week Program Life Time Access
➢ Pre-Recorded Full Course Curriculum &  Resources + Email Access for Q&A
➢ Live Breathwork Ceremony + Sound Healing (1)
➢ Sisterhood Circle Share (2)
➢ BONUS: 1 x 1 Deep Dive Call w Nicole 
Hi, I am Nicole Ananda.
I am here to empower you to unleash your feminine passion, power and purpose!

There is nothing more beautiful than a woman fully aligned with her gifts and thriving in this world!

For over 20 years, I've served the health and wellness industry and thousands of women in their transformational process.

I am a joyful, aligned, radiant, fierce, and soulful entrepreneur - Certified Life Coach, 500-ERYT Yoga Teacher Trainer, Breathwork Coach & Trainer, Reiki Master Healer & Trainer, Sound Healer and mama!

I am here to be your guide on the journey of self-love, self-mastery and self-actualization!
Want to connect with me before you apply?
If you want more clarity around how this program, or if you just want to connect with me before enrolling. Feel free to schedule a chat with me by clicking the link below.